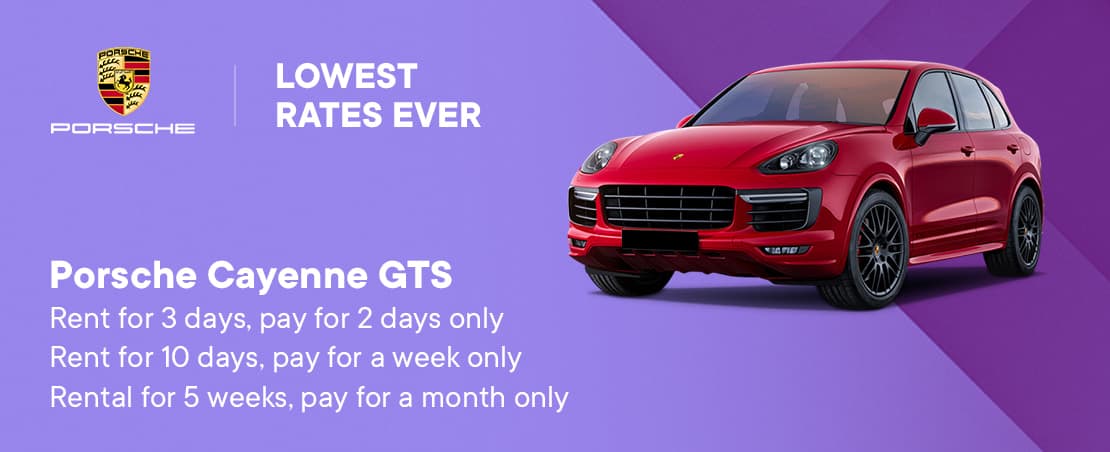 Porsche Cayenne GTS is one of the most sought-after crossover luxury sports cars in the market today. First introduced into the market in 2002, the Porsche Cayenne GTS was the first model from the brand to be fitted with a V8 engine since 1995. Although the vehicle was met with mixed reviews when it was initially launched, it did not take long for the GTS to make a name for itself as a family-friendly sports SUV. The Cayenne GTS stands out for its superior handling and impactful engines. Another feature of note is the stylishly designed interiors, which enable easy access to every part of the vehicle. The exteriors also stand out as the front and rear sections are expertly carved and stylized.
Here at Quick Lease Car Rentals, you can now get the Porsche Cayenne GTS for the lowest market prices with our exclusive promotion. With our limited-time offer, you can drive away in a Porsche Cayenne for three days by paying for two days, for ten days by paying only for seven days, and up to 5 weeks by paying only for a month. If you are one of those individuals who've always dreamt of driving a Porsche, then do not hesitate, send us an inquiry or call us on 800-78425 to place your booking.
Prior to placing an inquiry, kindly go through the terms and conditions listed below:
The promotion is only valid until the current stock lasts.
Prices and discount percentages are subject to change based on the duration of the rental period.
The discount is available only once and if the customer exceeds the promotion period, they are required to pay on a pro-rata basis.
Promotion does not cover fees related to optional accessories, mandatory taxes, or accident, damage, or theft processing fees.
The offer cannot be used in conjunction with any other existing promotion.
The lessor must meet the age, license and credit requirements listed by Quick Lease Car Rentals
All our general terms and conditions applies to the promotion as well.
Quick Lease Car Rentals holds the right to amend or withdraw the promotion at any time.
The promotion is exempt from VAT.